The Batemans Bay Seahawks have scooped three major awards in the ACT overnight.
The AFL Canberra presentation night was held in the nation's capital on Monday night (August 22) and as many already knew, Sophie Alves collected her trophy for Leading Goal Kicker for Women's 2nd Grade for the second year in a row.
Men's 3rd Grade coach, Michael Kenny, won Coach of the Year also for the second year running, guiding his side to a Preliminary Final.
Article continues after this ad
Advertisement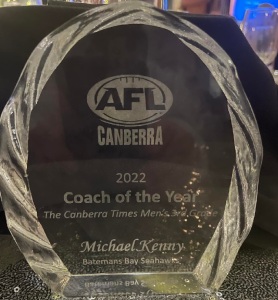 Gabbi Johnson stole the show though, winning the AFL Canberra's Best & Fairest for the 2nd Grade Women's Grade after a fantastic season, where she polled 24 votes playing the majority of the year on the wing.
Johnson told East Coast Radio the whole club worked hard all year to help her get to that position but admitted she was pretty proud of herself.
"When we realised that I'd come out ahead of the other girl who came second, everyone was pretty pumped, we were really excited," Johnson said.
"I had one of my friends sitting next to me and she was pumping me up to go and make a speech because I was pretty nervous, there was a lot of people there," she explained.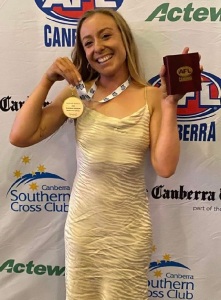 With the Seahawks 3rd Grade Men's team and 2nd Grade Women's team both bowing out in the Preliminary final this year, Johnson admitted her side didn't quite have the result as a team they were after this season.
Article continues after this ad
Advertisement
"It didn't go exactly to plan this year, so to be able to bring home a few wins for the Seahawks last night was really exciting," Johnson said.
A Seahawks spokesperson said the club is beyond proud of all players and coaches.
Image Credit: Batemans Bay Seahawks