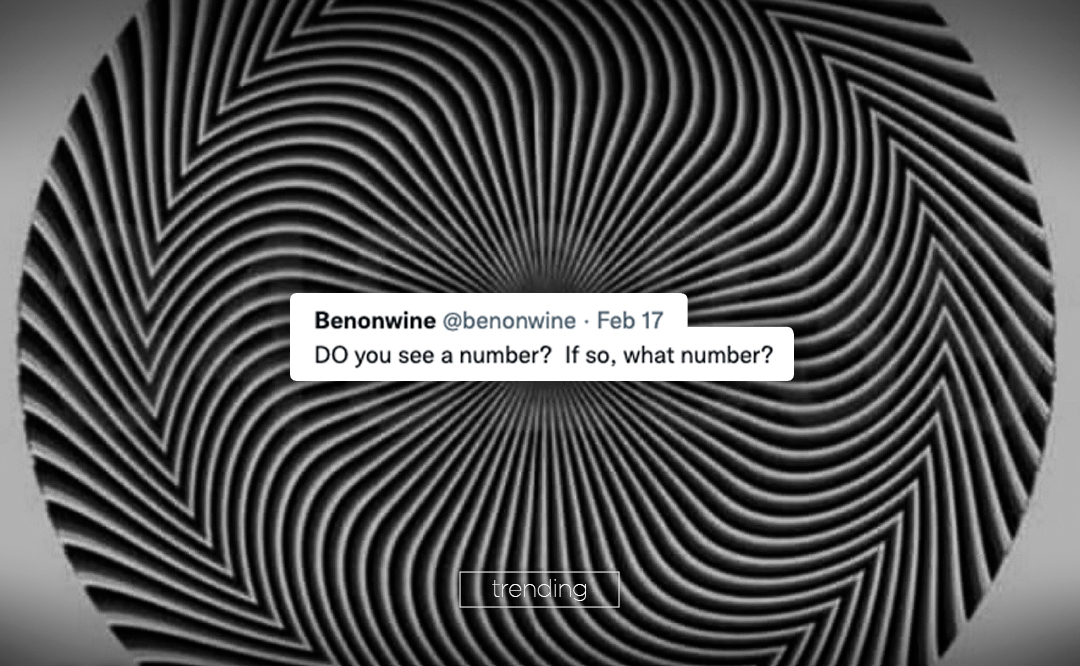 A new optical illusion is causing contention online with people seeing wildly different numbers in this black and white mind-trick. What do you see?
---
From the black and gold dress to the girl in concrete, we can always trust optical illusions to cause contention online.
The latest mind-boggling image that is sending viewers into a tizzy was posted to Twitter on Thursday.
Article continues after this ad
Advertisement
British influencer, Benonwine posted the black and white graphic with the caption, "DO you see a number? If so, what number?".
DO you see a number?

If so, what number? pic.twitter.com/wUK0HBXQZF

— Benonwine (@benonwine) February 16, 2022
The post has since had 662 retweets, with thousands of people replying with their response.
While there is some consistency across answers, the mind-trick has definitely got some users rushing to book an eye test!
"What's the catch? Should I book an appointment with my GP?", wrote one user.
Article continues after this ad
Advertisement
"I can only see 528. Does that mean anything about my eyesight?," responded another.
Yes because you missed a digit

— JamesCDF17 (@josboCDF17) February 17, 2022
When was the last time you had a sight test? Sounds like you may have an astigmatism or difficulty with contrast.

— Kirsty Logan 🌳💚🪗 (@RabbleChorus) February 17, 2022
Can some people actually not see the end numbers even when it's pointed out to them?

— Nick Ed (@NickEd82) February 17, 2022
Article continues after this ad
Advertisement
Definitely 45283, with a 2 or 8 at the start. Not getting any hint of a number after the 3.

— Jock High (@jockhigh) February 17, 2022
345283 … 3? Hard to see that last one.

— A Weekend in Vagus 🌈 (@AGildedEye) February 17, 2022
British actress, Catherine Russell and Australian travel writer and novelist, Michael Moran were among those who had a crack at the illusion.
While the original poster hasn't confirmed the correct answer, it seems the general consensus is that the hidden number is 3452839.
Article continues after this ad
Advertisement
If you're having trouble catching all of the digits, Twitter users suggest scrolling down on the image quickly or laying your phone flat and looking at the picture from an angle.
While the illusion isn't as accurate as formal tests, it can hint at an individual's level of contrast sensitivity (ie. those with poor contrast sensitivity may struggle to see the numbers).
According to All About Vision, high-performing contrast sensitivity is expecially vital in low light situations.
"Contrast sensitivity is a very important measure of visual function, especially in situations of low light, fog or glare, when the contrast between objects and their background is often reduced. Driving at night is an example of an activity that, for safety, requires good contrast sensitivity."
Contrast sensitivity isn't tested in a standard eye appointment at the optometrist, and instead can be checked with the Pelli Robson Contrast Sensitivity Chart.
Article continues after this ad
Advertisement
Do you know what this chart is for? Measuring contrast sensitivity. Research finds that for reading, high contrast produces the best results. White background, black text. Use Lexend fonts. https://t.co/IPqO40tMXK#together #changingthewaytheworldreads pic.twitter.com/y1xLiKZ1tr

— Bonnie, EdD (@LexendFonts) July 13, 2021
Just like a normal visual acuity chart, the Pelli Robson Contrast Sensitivity Chart consists of lines of letters, but instead of reducing in size as the lines progress, the letters become fainter in colour.
All About Vision suggest that, "if you are diagnosed with low contrast sensitivity, your optometrist might advise you to wear corrective lenses with a yellow filter to improve your ability to discern contrast."
---
Naturally, this recent number illusion has seen a surge of users posting other tricky pictures to Twitter.
Is this the answer? pic.twitter.com/SlCXs2nJud

— factgasm2 (@factgasm2) February 18, 2022
Article continues after this ad
Advertisement
— ij matusiak (@ireneusz18) February 18, 2022
Do you know there is no Color red in the picture? pic.twitter.com/h3qIbYwW7W

— Ϛմʍօƒìցհէҽɾ ∞/21M (@sumofighter666) February 17, 2022
---
Image: Benonwine / Twitter