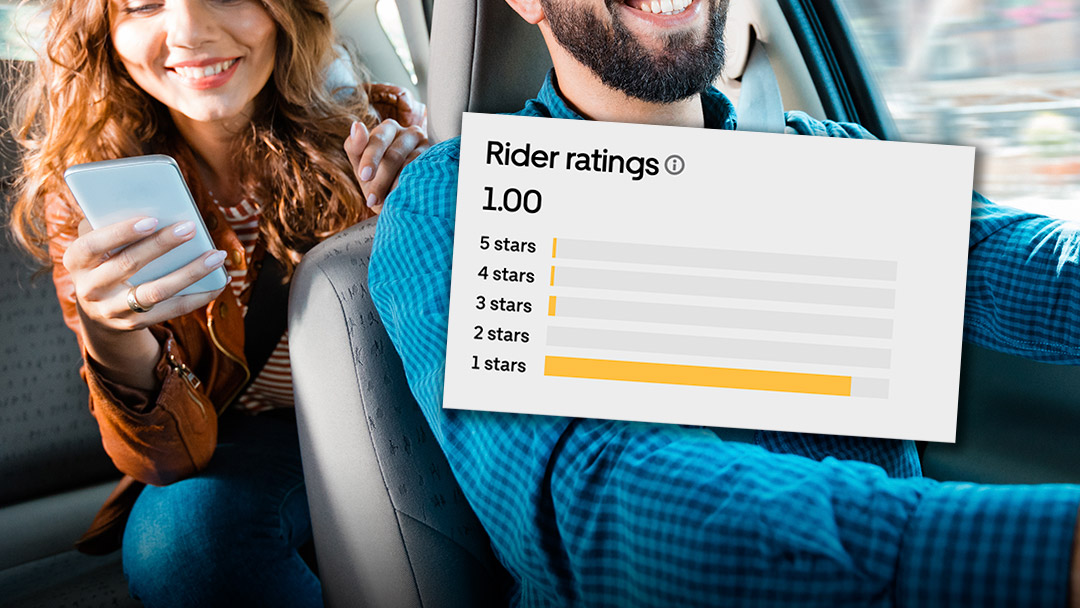 Uber riders can now view a breakdown of their past ratings with a recent update allowing users to view the insightful data for the first time.
Launched in Australia ten years ago in October 2012, the app-based ride-sharing company uses a five-star rating system for both drivers and passengers which appears on the user's profile. Until now, an average rating was only available to users but now riders can see how they rated by number. A user's Rider Rating is calculated by averaging the last 500 ratings they've received from their drivers. It is measured out of 5 stars, one being the lowest and 5 being the highest.
You can now access a breakdown of your average rider rating in our new Privacy Center.

See how many drivers gave you a stellar 5- ⭐ rating, the dreaded single star 🙀, and everything in between 👇 pic.twitter.com/CLdfhal9t9

— Uber (@Uber) February 16, 2022
Article continues after this ad
Advertisement
Most riders have wondered how they got their Uber rating and how many drivers actually gave them five stars or even one star. Well, wonder no more! Here's how to see your rating data:
In the Uber app, tap on your profile picture then go into Settings. Scroll down and tap in Privacy, then tap into Privacy Center.

Swipe right until you see the tile that says, "Would you like to see a summary of how you use Uber?" Tap See Summary.


Scroll down until you see Ratings and tap on "View my ratings" and there you have it.

Uber notes: The data here does not reflect your ratings in real-time. Please note, ratings are optional. Not everyone will give you a rating.
Uber introduced their new Privacy Center on Data Privacy Day on January 28 which allows users to control and view their data. The Privacy Center gives riders a Privacy Overview, allows them to download their data, explore their data, view their information as a driver and change personalised ads, data, Uber Eats and Postmates Ad settings.
Uber also released which state ranked the best with the Northern Territory just taking the lead. Here's how the states went:
Article continues after this ad
Advertisement
Northern Territory – 4.86

New South Wales – 4.84

Queensland – 4.84

Tasmania – 4.84

South Australia – 4.83

Australian Capital Territory – 4.82

Victoria – 4.80

Western Australia – 4.79
Now that you know how to find your rating breakdown…do you want to improve it? Go from ✖️ to ✖️ with our top tips 🧵👇

— Uber (@Uber) February 17, 2022
Not happy with your rating? Even Uber says very few people have a perfect score of 5.0 and gives us tips on how to improve your ratings for next time. Things that seem small to riders may matter to a driver so they've given the following advice. From Uber:
Be ready: Driver-partners love it when riders are ready to go when they arrive at the pick-up location, and when the location you entered is actually where you'll be. Please show respect for your driver partner's time and don't leave them waiting.

Leave it as you found it: The car you're riding in may be the driver partner's personal vehicle, so always make sure to take your rubbish and any other belongings with you. Don't leave a mess behind.

Treat everyone and everything with respect: As outlined in our Community Guidelines, we want riders and driver partners to feel safe, respectful, and positive. Always treat your driver and their vehicle as you would want to be treated.

Don't slam the door! It is easy to accidentally slam a door if you aren't thinking about it, and drivers have consistently cited door slams as a reason why they deduct stars. It's easy to accidentally slam a door if you're not thinking about it.

Be polite and courteous: After an interesting couple of years, we could all benefit from spreading a little kindness. "Hello, how was your day?", can really go a long way.
Image Credit: (Snapic_PhotoProduction / Shutterstock.com)
Article continues after this ad
Advertisement