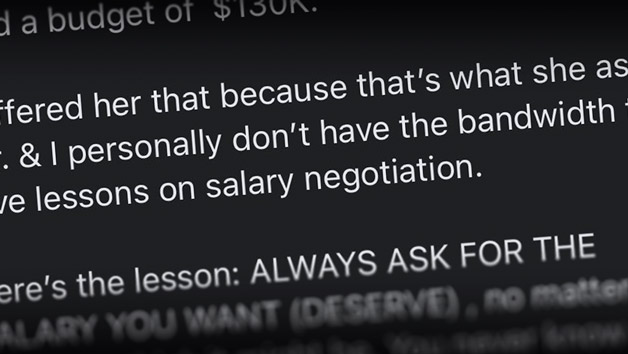 A freelance recruiter has caused a debate online after a post she shared about how to negotiate a salary went viral. The controversial post has now led her to lose her job.
In the original post, the recruiter gave her followers a lesson in salary negotiation with her full post saying:
"I just offered a candidate $85,000 for a job that Had a budget of $130K.

I offered her that because that's what she asked for. & I personally don't have the bandwidth to give lessons on salary negotiation.

Here's the lesson: ALWAYS ASK FOR THE SALARY YOU WANT (DESERVE) , no matter how large you think it might be. You never know how much money a company has to work with.

#beconfident"
Article continues after this ad
Advertisement
🗣 Always negotiate your salary 🥴#blackwomenintech #techtwitter #InterviewTips #techtalk #WomenWhoCode #BlackTech pic.twitter.com/8MQcQepIbW

— TECH RecruitHER (@jstTECHcharge) January 28, 2022
Her post was quickly shared around social media causing a debate with most questioning whether it was the right thing to do. One screenshot shared on Twitter was quoted over 4000 times.
Many shared their opinions on the matter, some saying the situation was not something to brag about. One shared an example of another situation where one recruiter did the opposite and paid an employee the full salary.
Mercedes S Johnson had an opportunity to change someone's life and chose to brag how she paid her less. People are wierd🤦🏾‍♀️… She deserves to be Donkey of The Day @breakfastclubam https://t.co/NAd6xFdlTO pic.twitter.com/tDQAvqbfV0

— Tamara ♉️ (@TamaraRussell05) February 1, 2022
So you just screwed someone from a life changing 45k got it. Weird thing to brag about but… https://t.co/ohQenhGoRF

— Åłęxãńdęr (@TheLucky0nes1) February 2, 2022
Article continues after this ad
Advertisement
I'm sorry. I can't applaud this at all. Every opportunity I have ever had to offer someone more money, I offered.

That might make me a terrible negotiator but I'll take the L. https://t.co/agEW0hsPmU

— Black Ashley (@ashleysimpo) January 29, 2022
I just can't imagine lowballing someone instead of paying people what they are worth just because you have the power to do so and then considering it a flex… https://t.co/4aVaCPmGWf

— Kalen Allen (@TheKalenAllen) January 29, 2022
In a world filled with Mercedes Johnson's, be the Briana Johnson's we all need. https://t.co/FKrwgdteO7

— Jæ | PCOS Wellness (@vitamin_jae_) January 29, 2022
The woman spoke to Huffpost and explained that after that job, she was let go. One person on Twitter even revealed the woman worked at the same company and was terminated because of it.
"I posted to my personal Facebook to encourage people around their worth. I never imagined it would leave my personal page… With this particular candidate, I did what the company required and I was let go," she was reported saying.
Article continues after this ad
Advertisement
I just found out this woman worked at my company & was terminated because of this. 🥴🥴 https://t.co/0B8smhPlix

— AB (@burnerbb95) February 2, 2022
She also took to Facebook to explain her reasoning behind the original post:
The purpose of that post was to empower others to not end up like this particular candidate. I want people to know their worth. I made that post at the risk of my job because it's not right that many don't know what their skills are worth. I learned a lot from my recent post. I understand and now feel how my post made a lot of people feel, especially the candidate that was directly impacted by my choice. It doesn't feel good and this should have gone differently. She deserves to be paid what she's worth from the company despite what she thinks the job responsibilities are worth. While this is a common practice in the hiring space, it should not have been a public learning experience, but an internal one. I hope for some it was a message about worth, but I don't take lightly the salary disparities that happen in corporations. It is not to be made light of. While that was not my intent, I have to acknowledge the impact of my statement. I hope to one day be able to help candidates be aware of the salary ranges they should ask for before it ends with another 45K difference in pay. I'm optimistic that you will see my heart and know I meant no harm. I'm not a risk taker, but I took this risk for another person. I don't know what race this candidate is, All I know is that this candidate didn't realize that they were worth so much more. I just wanted to instill confidence. #worth #value #thisishonest #beconfident
Although in her Facebook apology she notes what she did was common practice in the industry, many still questioned if it was the right thing to do.
Image Credit: (@jstTECHcharge/Twitter)
Article continues after this ad
Advertisement