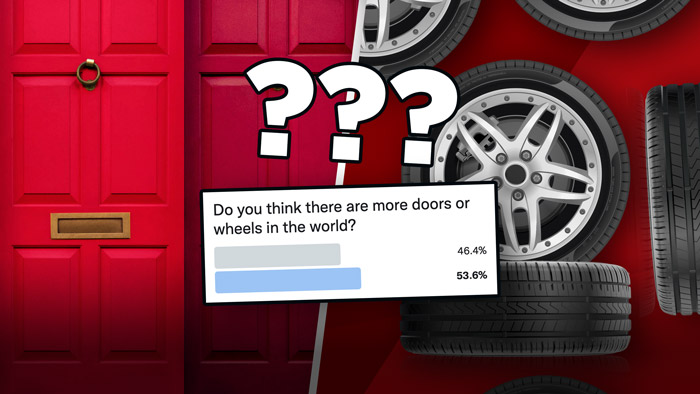 When Ryan Nixon asked a simple question to Twitter, he didn't think it would cause the internet to jump on the debate and go viral. Nixon shared that he and his mates were having the 'STUPIDEST debate' and asked the internet, "Do you think there are more doors or wheels in the world?"
Taking to Twitter, Nixon shared with a poll, "My mates and I are having the STUPIDEST debate… And I am here for it. Do you think there are more doors or wheels in the world?"
The results of the poll are fairly even, however, the poll's final results showed 53.6% of people thought wheels, just beating the 46.4% of people saying doors.
Article continues after this ad
Advertisement
My mates and I are having the STUPIDEST debate…

And I am here for it.

Do you think there are more doors or wheels in the world?

— Ryan Nixon (@NewYorkNixon) March 5, 2022
With over 220,000 votes and almost 4K retweets (at the time of writing), the internet has passionately shared their opinions on the debate, some team "Wheels" and some team "Doors." Some answers were simple and some were more complex.
Some even were so invested in discovering the answer it kept them pondering and confused. They wrote, "This has RUINED productivity everywhere I've spread it," and "This single tweet has had my brain BOGGLED all day," and "you have ruined my life, i've lost sleep over this."
That's me awake for the foreseeable. https://t.co/4IbhM1QFig pic.twitter.com/PQiK3xB1pO

— May (@GruSue) March 8, 2022
Here is what Twitter is saying:
Article continues after this ad
Advertisement
I like this explanation https://t.co/jEYRjPZVPj

— 🩴𝕂𝕒𝕥𝕙𝕚𝕁𝕠 🇺🇲💚🏳️‍🌈 (@kathijo) March 6, 2022
I spent far too long on this please like and subscribe pic.twitter.com/qeImmTuoPH

— Mr.Darcy sans money and good breeding (@FuriousLives) March 6, 2022
Hmm, you've got to see the bigger picture (and given there's is no qualification on wheels/doors)

The biggest tire maker in the world is Lego, 381M tires per year (more than the 2 biggest vehicle tire makers).

Given each one has a wheel, I think we have a winner.

— Mark Chapman (@m4rkchapman) March 6, 2022
In the world:
1bn cars (4bn wheels)
1bn bicycles
Scooters, motorbikes, etc etc
They are smaller and there are just more instances where they can be used (shopping trolley, toy, vacuum). They also need to be used in pairs/groups for stability therefore more

— Renkitt 🦁🦁🦁 (@Widerife81) March 6, 2022
Surely doors. Every house as at least five doors on average and there are 2.5 billion houses in the world. Not to mention garages and sheds.
I also can't believe I spent two minutes of my life wrapping my brain around this.

— The NZ Majority (@thenzmajority) March 5, 2022
Article continues after this ad
Advertisement
Using the ideology that wheels are only for vehicles and doors only count if they can be walked through.

Think it's quite clear that doors win. Let me know if I've missed anything major or something needs explaining. #wheelsvsdoors @whujoe pic.twitter.com/yvyOZYgmoP

— Alex 🏴󠁧󠁢󠁥󠁮󠁧󠁿 (@LFCALEX_7) March 7, 2022
The debate has also carried onto viral video platform TikTok with users sharing videos of their thoughts. One group even went around their office to get the opinions of their colleagues.
Article continues after this ad
Advertisement
Obviously, the debate is almost impossible to settle without individually counting all of the wheels and doors that exist in the world and even comes down to what one defines as a wheel or door. No definitive answer seems to be around yet, but we'd love to see one. Which team are you on?
Image Credits: (strajinsky + Paul Vowles / Shutterstock.com | @NewYorkNixon / Twitter)