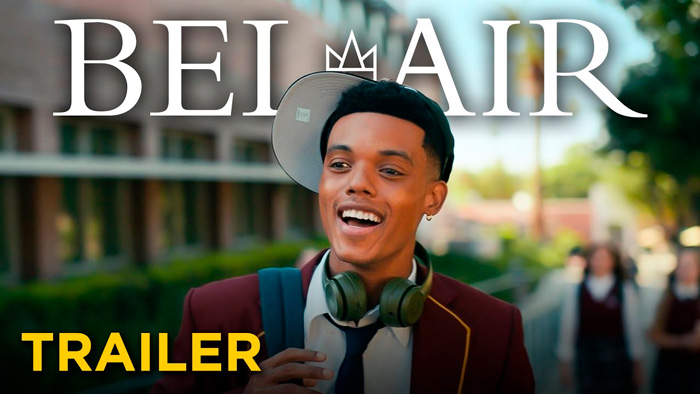 The first trailer for "Bel-Air", a reboot of the hit 1990s series, "The Fresh Prince of Bel-Air" has been released with the announcement of its premiere in Australia on February 14.
Will Smith posted the official trailer to his Youtube page with the caption:
3 years ago, my guy Morgan Cooper uploaded his fan trailer to YouTube, showing how he envisioned the Fresh Prince as a drama. Now, here is the first full look at his retelling of the story that's always been so close to my heart. Cant wait for you guys to see it Feb 13 on @Peacock: https://pck.tv/3q0Ts7v
Article continues after this ad
Advertisement
The trailer shows the reimagined series which looks to be a dramatic take on the original 90s sitcom, but still leans into the original premise, following Will's complicated journey from the streets of West Philadelphia to the gated mansions of Bel-Air.
The series was inspired by a fan-made trailer which was released in 2019 by writer and director Morgan Cooper. The dramatic reimagining of the series caught the attention of Will Smith, who expressed interest in developing the concept further with Cooper and in 2020, it was announced the new series was in production with both as executive producers.
In August of 2021, Jabari Banks was announced to play the main character of Will. Will Smith posted of him surprising the young actor in a video call with the exciting news.
Article continues after this ad
Advertisement
The rest of the cast is as follows; Adrian Holmes as Phillip Banks, Cassandra Freeman as Vivian Banks, Olly Sholotan as Carlton Banks, Coco Jones as Hilary Banks, Akira Akbar as Ashley Banks, Jimmy Akingbola as Geoffrey, Jordan L. Jones as Jazz Simone, and Joy Jones as Lisa.
Smith announced the series will be premiering in the US on Peacock on February 13th on Super Bowl Sunday, but in Australia, it will premiere on Monday the 14th of February on Stan.
Image Credit: (Will Smith / Youtube)
Article continues after this ad
Advertisement