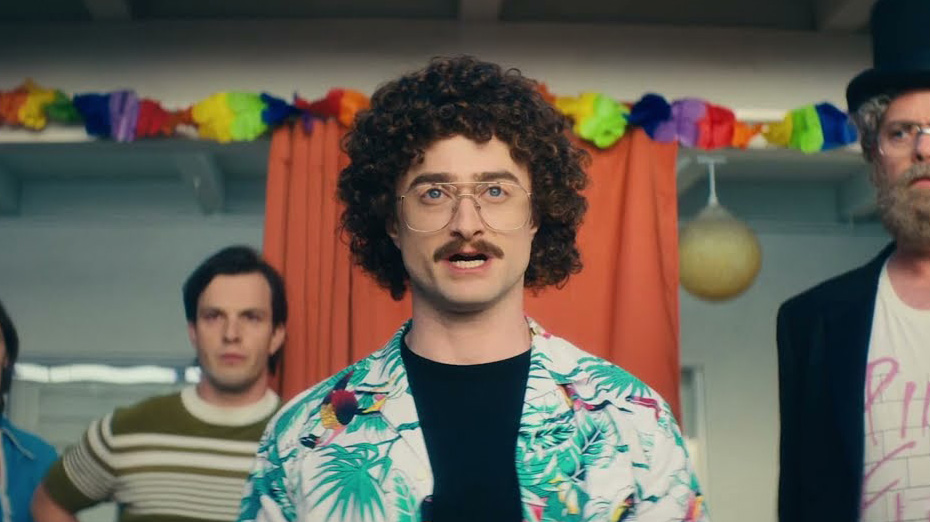 Get psyched. A new teaser trailer for "Weird: The Al Yankovic Story," has been released, showing Daniel Radcliffe starring in the lead role as Yankovic.
The trailer begins with flashy titles overlaid over footage of an anticipating crowd saying, "6 Platinum records, 5 Grammy's, The Untold True Story."
Radcliffe is then seen facing away from the camera on stage and says, "hope you guys are ready for this," before revealing himself in the character's signature hair, and glasses with an accordion in hand. Clips of the movie are shown over Yankovic's, 'Like a Surgeon,' a parody of Madonna's, 'Like a Virgin' before he says, "Anyone got an accordion?"
Article continues after this ad
Advertisement
The upcoming biographical film is directed by Eric Appel and also stars Evan Rachel Wood, Rainn Wilson, Toby Huss, and Julianne Nicholson. The film comes after Appel released a fake trailer for the concept back in 2010 with Funny or Die.
Radcliffe was announced to star in the title role in the new movie on January 18th, 2022 in which Yankovic co-wrote the script. Appel said about working with Yankovic, "When Weird Al first sat me down against my will and told me his life story, I didn't believe any of it, but I knew that we had to make a movie about it."
Radcliffe said in a recent interview with Jimmy Fallon that it's one of the most fun things he's ever done before explaining that 13 or 14 years ago, he sang a version of a Tom Lehrer's 'The elements' on the Graham Norton show which caught Yankovic's attention. He shared that he got lent Yankovic's accordion for the month and did lessons with him personally.
In another interview with The New York Times, Radcliffe said he could not be more excited for the release of the film. He talked about filming the movie saying, "I did one shot the other day and Al walked up to me afterward and was like, 'Is that the weirdest thing you've ever had to do?'
"I was like, 'It's top two, with the only other one being Paul Dano riding me like a Jet Ski at the beginning of 'Swiss Army Man.'"
Article continues after this ad
Advertisement
The storyline is set to explore the comedian's life from his rise to fame and his lifestyle. IMDB writes:
"Explores every facet of Yankovic's life, from his meteoric rise to fame with early hits like 'Eat It' and 'Like a Surgeon' to his torrid celebrity love affairs and famously depraved lifestyle."
The movie is set to be released on streaming platform, Roku Channel in the states but no official release date has been announced or where it will be available in Australia.
Image Credit: (alyankovic / Youtube)