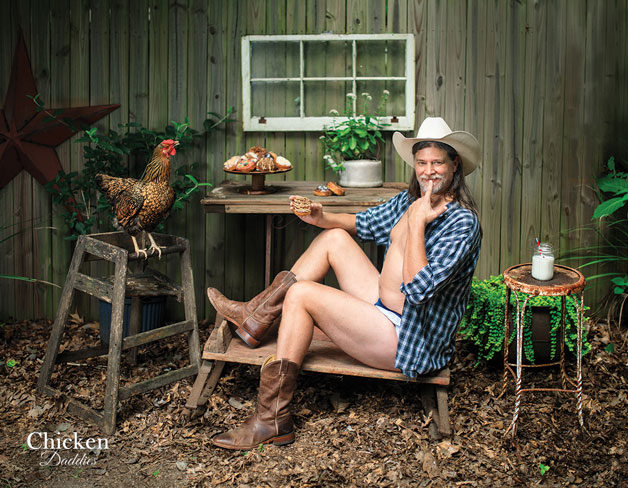 Here's a calendar to make you laugh and brighten your day! Chicken Daddies is looking for models for their upcoming calendar, so if you know someone who'd be a perfect fit then here's the chance to become a part of it.
Professional photographer Danielle Brock decided to start the project after she discovered the internet trend called the "Target Dress Challenge," in January of 2021. Jumping on the trend, she asked if her partner would be willing to do a photoshoot with their chickens in which she says he didn't even bat an eye.
"He didn't even bat an eye and agreed! We did the photoshoot and I shared it to social media, and people loved it!"
Article continues after this ad
Advertisement
Due to its popularity, Danielle decided to do a call out for dad models to appear in a "2022 Farm Dress Edition" and then "Chicken Daddies" was born. From that, the "Daisy Dukes Edition" then gained momentum and went viral. The popularity of the calendar allowed Danielle to travel across the US and expand the idea, and turn it into a full-time job. The calendars became wildly successful selling over 11,000 across the world. She says about her opportunities from the success:
It was then featured on a local news station! Afterwards, I traveled all Summer in the United States to photograph notable chook dads from across the entire country including the famous bustling Times Square in New York City. I traveled enough miles to circle the entire Earth once in a few months! In the 2022 editions, featured is a TikTok celebrity, founder of New York Says Thank You Foundation, owner of ChickenButt Donuts, and another Dad who went viral for the Target Dress Challenge.
The US-based professional portrait photographer from Portland, Oregon says she is accepting applications worldwide although, with travel restrictions due to COVID, she is watching the status of restrictions and will jump on the chance to travel. Dads in Europe, Australia, New Zealand, Canada, South America, United States are all encouraged to apply. Hundreds of applications have already been submitted. Danielle explains what she's looking for in a 'Chicken Dad':
"I'd really love to see Chicken Dads with a unique story… I recommend really making yourself stand out with some silly photos to show your personality or if you have a unique story. They must be 100% down to participate and be silly."
About future calendars, Danielle says although next years themes are top secret they are well on their way:
Article continues after this ad
Advertisement
"The themes next year are top secret and are already underway! I'd really love to capture more diversity and urge all Chicken Daddies with a sense of humour to apply!"
Applications can be made at www.chickendaddies.com and calendars can be purchased on www.chickendaddies.com or Etsy.
Image Credit: (Supplied by Chicken Daddies)