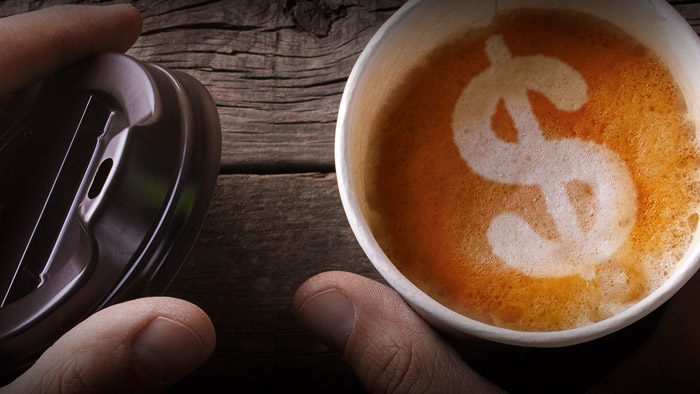 Australian coffee drinkers may have to dig a bit deeper into their pockets as industry experts predict the price of coffee will increase greatly in the near future.
President of the Café Owners and Baristas Association of Australia, David Parnham warned that a regular cup of coffee may soon rise to as much as $7. The average cup of coffee at the moment is around $4, but Parnham says prices will hit $5 soon and may go as high as $7 depending on what happens on the global stage. Parnham explains:
"Prices will hit the $5 mark in the average café whether you're in the CBD locations or outer suburbs. Could go as high as $7 depending on what's happening on the global stage."
Article continues after this ad
Advertisement
Thanks to everyone who was saying coffee is cheaper than fuel—they're hiking the price up to $7 for a cup of coffee.

— s.s. williams (@Ardor) March 14, 2022
Parnham also told ABC News the price increase were due to shortages, export issues and shipping prices:
"What's happening globally is there are shortages obviously from catastrophes that are happening in places like Brazil with frosts, and certain growing conditions in some of the coffee growing areas. It's nearly five times the container prices of two years ago due to global shortages of containers and ships to be able to take things around the world."
One of the biggest exporters of coffee to Australia is Brazil which has been affected by droughts and frost, impacting the production and supply of beans from the region. Increasing fuel prices also contribute to costly shipping costs.
Parnham says the pricing should already be $6-$7 a cup which is overdue to change, however cafe's are currently holding back on changing that for the consumer. He says it can't sustained for much longer however.
Article continues after this ad
Advertisement
When asked if Australian's would pay that much for a cup of coffee, Roger Simpson from The Retail Solution told 7news he believed people would. He explains coffee is too much in our culture and we were paying $3.50 only a few years ago. He said:
"I think it's just so much in our culture. We were paying $3.50 a few years ago. Now we're paying $5.50, $6 depending where you go. I think coffee would be something not many of us will be willing to give up, even if the price goes up."
Will you pay $7 for a coffee☕️? I can get a 🍷for the same price.

— BeachGirl Jan JG 🌴⛵🐬🏖🐾🇦🇺 (@BeachGirlJan) March 14, 2022
Image Credit: (ADragan / Shutterstock.com)