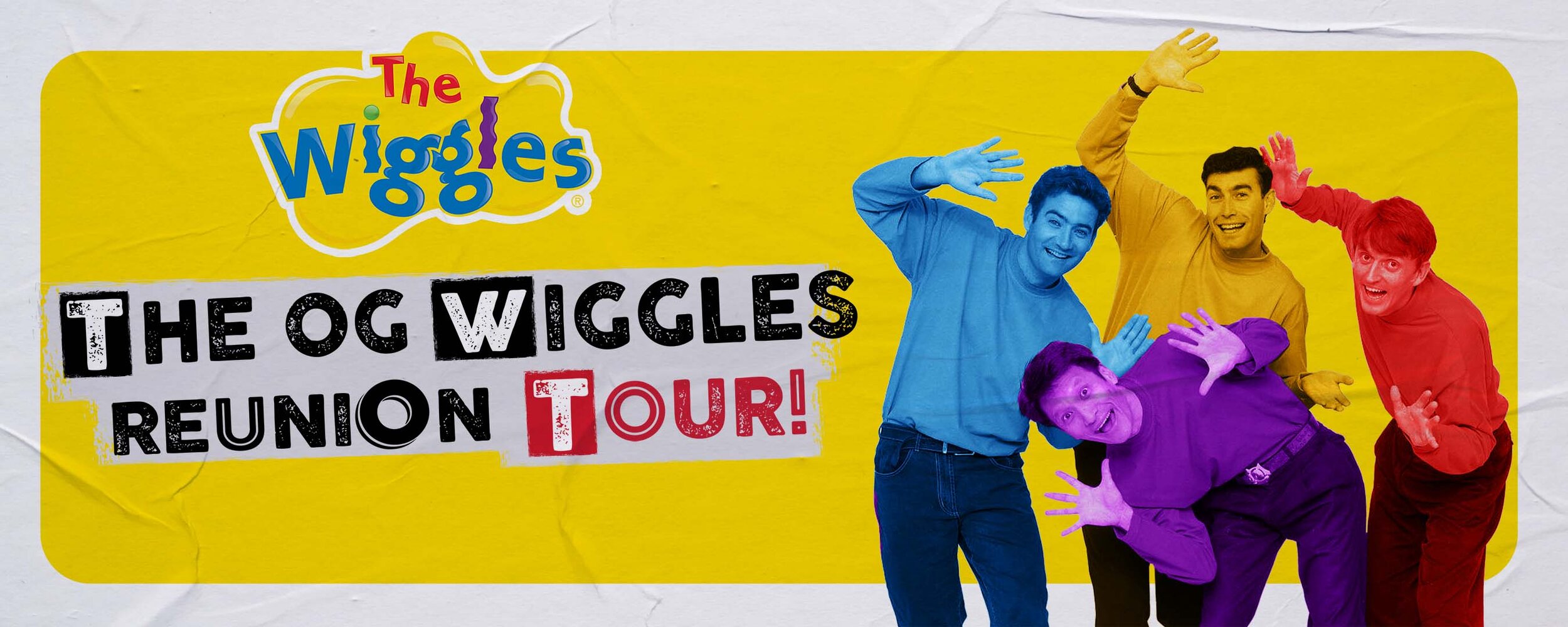 Leave the kids at home, because the original members of the Wiggles are touring the country in 2022 to perform a series of 18+ reunion concerts for nostalgic adults wanting to relive some favourite childhood singalongs.
The original members Anthony Field, Murray Cook, Jeff Fatt and Greg Page hitting stages in Darwin, Hobart, Melbourne, Perth, Sydney and Brisbane from February to April 2022.
The shows coincide with the current Wiggles lineup touring their Fruit Salad TV Big Show for kids at the same time.
The OG Wiggles Reunion shows will feature some of The Wiggles' best-loved songs and cameos from characters such as Captain Feathersword, Dorothy the Dinosaur, Wags the Dog, and Henry the Octopus.
The guys will be supported by some of the country's very best bands too, with a "wild support act" promised at each concert.
Jeff Fatt, OG Purple Wiggle, said, "All of those children who loved The Wiggles in the 90s are now adults who love the nostalgia and fun from that time in their lives. This night is for the grown-ups and is a chance to bring back some of that genuine, high-spirited liveliness again."
Greg Page, OG Yellow Wiggle, said: "Looking forward to getting back on stage with the OG Wiggles - we always have a great time together, and can't wait to see the "kids" reliving their childhood." He joked he "may have to pull back a bit on the dancing this time around though!" referencing the heart attack he suffered during their Bushfire Relief concert last January.
That concert sold out in 5 minutes, so be quick with your tickets for this tour, which go on sale on Friday 22nd October at 4pm local time, with Hobart and Melbourne on sale from 6pm.
Tour dates:
Darwin: 12 February 2022
Hobart: 19 February 2022
Melbourne: 12 March 2022
Perth: 9 April 2022
Sydney: 23 April 2022
Brisbane: 30 April 2022
Here's some footage from 2020's bushfire relief concert to give you a taste of what to expect:
Had the privilege of seeing the OG #thewiggles tonight. It was the reunion I never knew I needed. Such talented musicians and givers of joy.

Thoughts and prayers with Greg, true trooper 💛❤️💙💜

(Snippet of the only vid without my cringe voice😅😂) pic.twitter.com/cP5lDAtR9O

— Home Skilled (@kidatheart216) January 17, 2020
Plus have some laughs with these fun bloopers from the guys:
This Wiggly Wednesday we're cracking up at OG #TheWiggles bloopers, what's your favourite moment? 😂 #TheWiggles pic.twitter.com/KNYaLF9Bda

— The Wiggles (@TheWiggles) July 15, 2021
Image: The Wiggles website