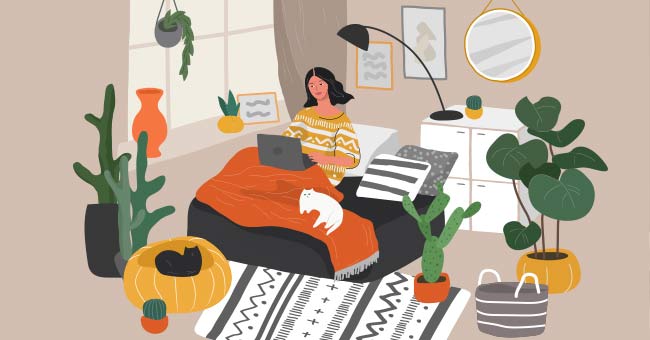 With many businesses now advising staff to self-quarantine and work from home for the next few weeks to avoid the spread of covid-19, most of us will be spending majority of our time at home. We want to help keep work and life separate while still feeling comfortable. So schedule your work hours and read on for a list of suggested activities to help keep you sane and a little less isolated while in quarantine. (you can even do most of these, yes even #3, while face timing your friends and family).
1. Netflix Party
Netflix Party is a new way to watch Netflix with your friends online. Netflix Party synchronizes video playback and adds group chat to your favourite Netflix shows. You can link up with friends and host long distance movie nights and TV watch parties! There ain't no party like a Netflix watch party!
2. Read
Reading increases creativity and imagination, lowers stress levels AND makes you smarter. Sign us up (to that library card)! You can find many great book recommendations and free downloads online. Catch up on classics and learn more through articles you've always wanted to read but didn't have the time for. You could even start a book club with your friends and discuss (facetime) whether your team Jacob or Edward. Feeling inspired by all the new books you've read, why don't you try writing your own?
3. Have a Bath
There's nothing more enjoyable than submerging yourself in water, whether it's for hygiene, leisure, health or because of a global pandemic. There's some serious heath benefits, scientifically proven, to taking a bath such as reducing pain and inflammation, calming the nervous system, helping blood flow easier and relieving symptoms of cold and flu. Try out a new luscious bath bomb or epsom salt, lie back and relax.
4. Get Creative
Have you ever seen an artwork and thought "wow, I wish I could make that". Whatever you want to draw or paint, you can learn the process through online courses or just give it a go and challenge yourself. Experiment with different mediums, charcoal, pencil, oil paints and more to find what you enjoy best. It can give you a real sense of achievement once you have them hanging on your wall. Watch the video below for some serious watercolour artwork inspo.
5. Puzzles & Games
Dust off those boards games and have a friendly match. There's nothing like getting to know your family better (or worse) than over a game of Monopoly. If you're in self isolation and have no one to play connect 4 with, you can download plenty of games on your phone such as "Scrabble…with friends" or "chess…with friends" etc. Get out that Nintendo, PS4 or Xbox, we've all watched Witcher, have you thought of playing the game and living through Geralt?
6. Learn New Recipes
You probably have a repertoire of simple meals you make each week (cheese on toast) or maybe you've vowed to go meatless? You can look up recipes online and get some inspiration from Instagram. Plug in that slow cooker and add in all your veggies. How about perfecting that old family recipe, and the beauty of surprising a loved one with their favourite meal. Having pasta? try a different sauce or creating the pasta from scratch. Bon appétit!
7. Get Organised
Now is the perfect time to declutter and keep only what you need. Sort your clothing into piles, bag up all your unwanted clothing and have them ready to donate. Throw out old makeup that is past its prime, and wash all your brushes. Use your recycling and create a compost. Sell unwanted items on Facebook marketplace or gumtree. Wipe down all surfaces daily. Create a to do list and take control of your time and priorities.
8. Keep a Quarantine Diary
Putting your thoughts and feelings into words can change the way your brain deals with stressful information and makes room for other, more positive thoughts. By keeping a record your future self (and kids) will be interested in how you dealt with this intense time and disruption to daily life.
9. Show Pets Your Love
Go outside and soak up the sun by taking your pupper for a walk or hike, also a great way to get in your exercise as we assume you won't be hitting up your gym. Teach your pets a new trick and show them off, you can even film it and start a youtube or Instagram so you can post images and write captions from your dog's perspective "smooches for mama".
10. Dance
Put on your favourite tune and get moving! Dancing is a fun way to increase your aerobic fitness, reduce stress and boost your mood! Finally you can learn the dance steps to "Ain't no party like an S Club Party" (I know you've been thinking about that song since I mentioned it in the first point).