Customers at Bermagui and surrounding areas will have easier access to hundreds of NSW Government transactions when Service NSW's Mobile Service Centre visits today (Thursday August 25).
After visiting Merimbula yesterday, the bus will be stationed at Dickinson Park on Lamont Street in Bermagui from 9am-3pm today.
The Mobile Service Centre offers more than 1000 government transactions on the spot including vehicle registration, driver licences, Seniors Card applications, owner builder permits, housing payments and more.
Article continues after this ad
Advertisement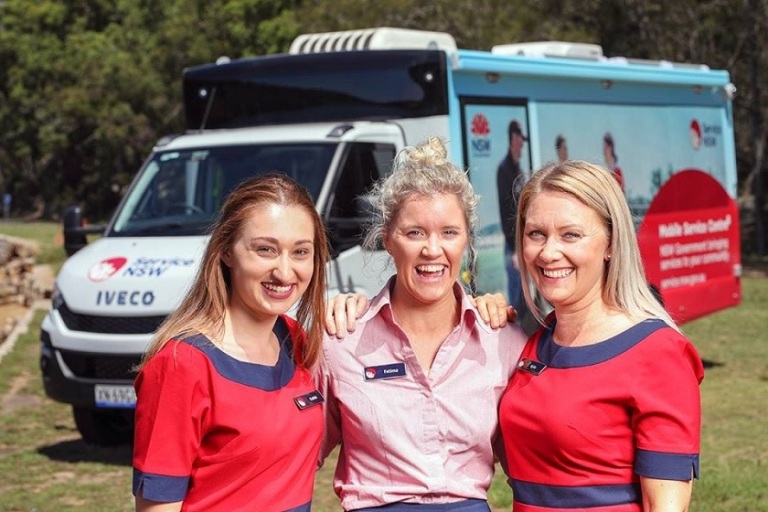 Customers can also talk with one of our friendly staff who can help them apply from more than 70 rebates and savings as part of the Savings Finder program, including the National Parks Concession Pass, Stay NSW, Regional Seniors Travel Card and NSW Gas Rebate.
The Mobile Service Centre is about saving time and money for customers because for some people the nearest Service NSW Centre could be dozens of kilometres away.
Service NSW staff will also be able to assist customers in other areas of the South Coast next week. Staff will set-up a marquee and attend with laptops to service the community, helping customers process transactions digitally through the Service NSW website.
The Mobile Service Centre bus will not be attending as the vehicle is required to assist the Casino area as the Service Centre is temporarily closed.
The team will be at the following locations:
Article continues after this ad
Advertisement
Monday 29 August 2022 – Bodalla Dairy Shed, 52 Princes Highway, Bodalla, 12pm-3pm
Tuesday 30 August 2022 – Evans Road Playground, Evans Road, Tuross Head, 9am-11.30am
Tuesday 30 August 2022 – Near the supermarket on Grant Street, Broulee, 1pm-3pm
Wednesday 31 August 2022 – Community church hall, 175 Jacobs Street, Sussex Inlet, 9am-3pm
Thursday 1 September 2022 – Country Club, 11 Paradise Beach Road, Sanctuary Point, 10am-3pm
Customers in those areas will be able to access government transactions through the Mobile Service Centre in about 10 weeks' time when the bus returns.
Customers can plan for the next time a Mobile Service Centre visits with the live timetable on the Service NSW website.