Another piece of space junk has been found in the Snowy Mountains.
After three pieces believed to be from the trunk of a SpaceX capsule that re-entered earth's atmosphere on the 9th of July, were discovered by farmers near Dalgety and Jindabyne around 3 weeks ago, a fourth piece has been located by cattle farmers, Jordan and Renee, from outside Tumbarumba.
Astronomer and Astrophysicists at the Australian National University (ANU), Dr Brad Tucker, visited the site on Tuesday (23 August 2022) and confirmed it was space junk and told East Coast Radio there is probably more debris around the south Coast that hasn't yet been disovered.
Article continues after this ad
Advertisement
"I went and checked it out and yes it appears to be another piece of debris," Dr Tucker said.
"So this is a bit of a smaller bit, it looks like the inside paneling of the trunk," he said.
On 9 July 2022 around 7am, a SpaceX Crew One Trunk (the bottom part of a SpaceX capsule that ferries astronauts up and down) was seen re-entering Earth's atmosphere over South East NSW.
"Lots of people heard bits of it breaking up, they heard a sonic boom and they saw bits of it, and a few of weeks later a couple of farmers found large fragments of what they believed were space junk," Dr Tucker said.
"So when a capsule re-enters, they break apart into smaller pieces so they can land safely in the ocean but in this case it didn't quite go to plan, with pieces found in Dalgety and a few new pieces found near Jindabyne."
Article continues after this ad
Advertisement
Dr Tucker said it appears there are even more bits of this SpaceX Trunk Capsule around the South East region.
"If you imagine the trunk is this giant ring, this is one of the inner layers that broke off as the whole trunk broke apart when it hit the earth's atmosphere," Dr Tucker said.
"It's super light-weight and slightly smaller (than the other pieces) so it likely came down earlier that the other heavier bits that fell further east near Dalgety," he said.
"So there could be even more pieces closer to the coast that are yet to be found."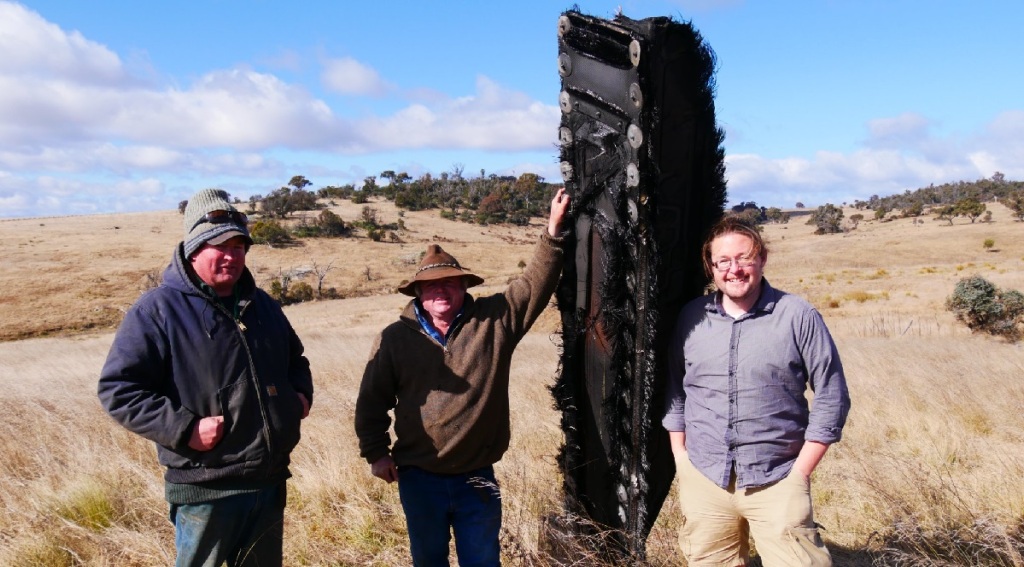 Dr Tucker, travelled to the South East on the weekend of July 30 to view the first discovery that sheep farmers Mick Miners and Jock Wallace made.
Article continues after this ad
Advertisement
Dr Tucker said they are some of the largest pieces of space junk to ever be found in Australia with an incident of this nature not recorded in the country since 1979.
"The only other time we've had something like this happen in Australia was in 1979 when the US Space Station SkyLab broke apart over Esperance in Western Australia and quite large pieces were found there," Dr Tucker said.
One of the bits of space junk was reportedly over 7 feet.
"Since then this is it, this is the largest pieces since there and it's pretty much only the second time we could document it."
Image Credit: Dr Brad Tucker / Adriane Reardon
Article continues after this ad
Advertisement